Happy New Year everybody! As a way to start the new year I wanted to post an update on my progress on BiblioCraft for Minecraft 1.8.x. So far I think I've got an understanding on about ninety percent of what I need to know to make BiblioCraft work in 1.8. Since over half of the BiblioCraft codebase deals with rendering all the nice looking things and Minecraft 1.8 changed the way rendering is done I am in the process of rewriting over half of the code for BiblioCraft. The new way of rendering things should be much faster than the old way.
I am also taking the opportunity to rewrite areas of code that I wrote a long time ago using improved techniques that I've learned over the years. This ultimately means the update will take more time to complete, but I will be able to troubleshoot, modify, and add on to BiblioCraft much easier in the future.
So far I've managed to get the bookcases working pretty much just as they were in the last version. They still need some minor tweaks, but they are using the brand new rendering methods in 1.8. I've used the bookcase as my primary block to learn how to render custom models.  This screenshot below is taken in Minecraft 1.8.8.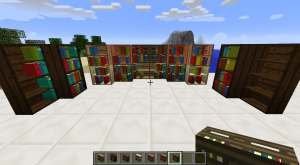 Next I plan to bring in the shelf and figure out item rendering in 1.8. I am fairly confident I already have an idea on how that will work and once I get that I can start bringing in more BiblioCraft blocks that use similar rendering techniques. After that I still need to figure out how map rendering has changed and figure out how to animate my custom models and I should be able to finish the update. I'll use Twitter to try to share update screens as I make more progress on this update, so keep an eye on that if you want to keep tabs on where I am at.
I was hoping I would be further along by now but the learning curve for all the new techniques has slowed me down more than I anticipated. However I think the final result will be well worth the time investment. I may have to slow down on progress soon since I start college back up January 5th. The good part of that though is that I am studying computer science so hopefully I will learning useful things I can use to make BiblioCraft even better. I won't know how much extra time I might have until after classes start but I expect I should still have enough extra to continue working on the update.
Anyway, hope that gives you an idea on what has been going on with BiblioCraft. I think I can say for sure that you can definitely expect a Minecraft 1.8.x version this year. 😉