These add-ons for BiblioCraft will allow the player to craft 8 of the wooden BiblioCraft blocks in the different woods provided by said mod. For any BiblioCraft block that currently can be specified by the 6 vanillas woods can be made the same way with the modded woods and you will receive a block of that color wood.
These will no longer be updated. They will still work with the listed versions, but since the Furniture Paneler basically can accomplish the same end goal, I see no need to continue updating these. The TerraFirmaCraft pack is the only exception because there is a lot more to that than just wood stuff.
Version's for BiblioCraft 1.5.0+ also include map frames, seats, and seat backs. Not pictured.
Version's for BiblioCraft 1.7.4+ also include Fancy signs and Fancy workbenches.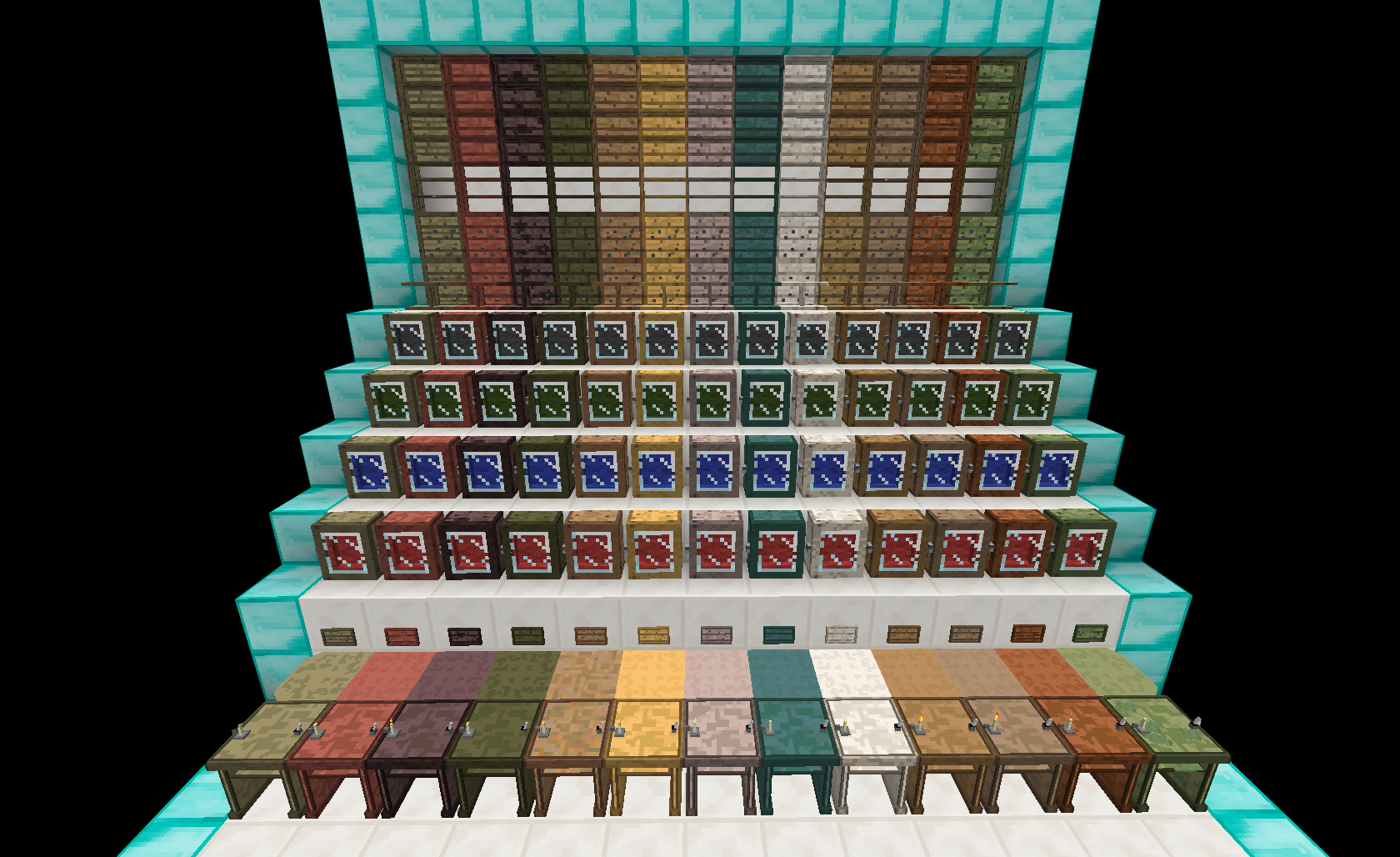 Biomes O' Plenty woods showcase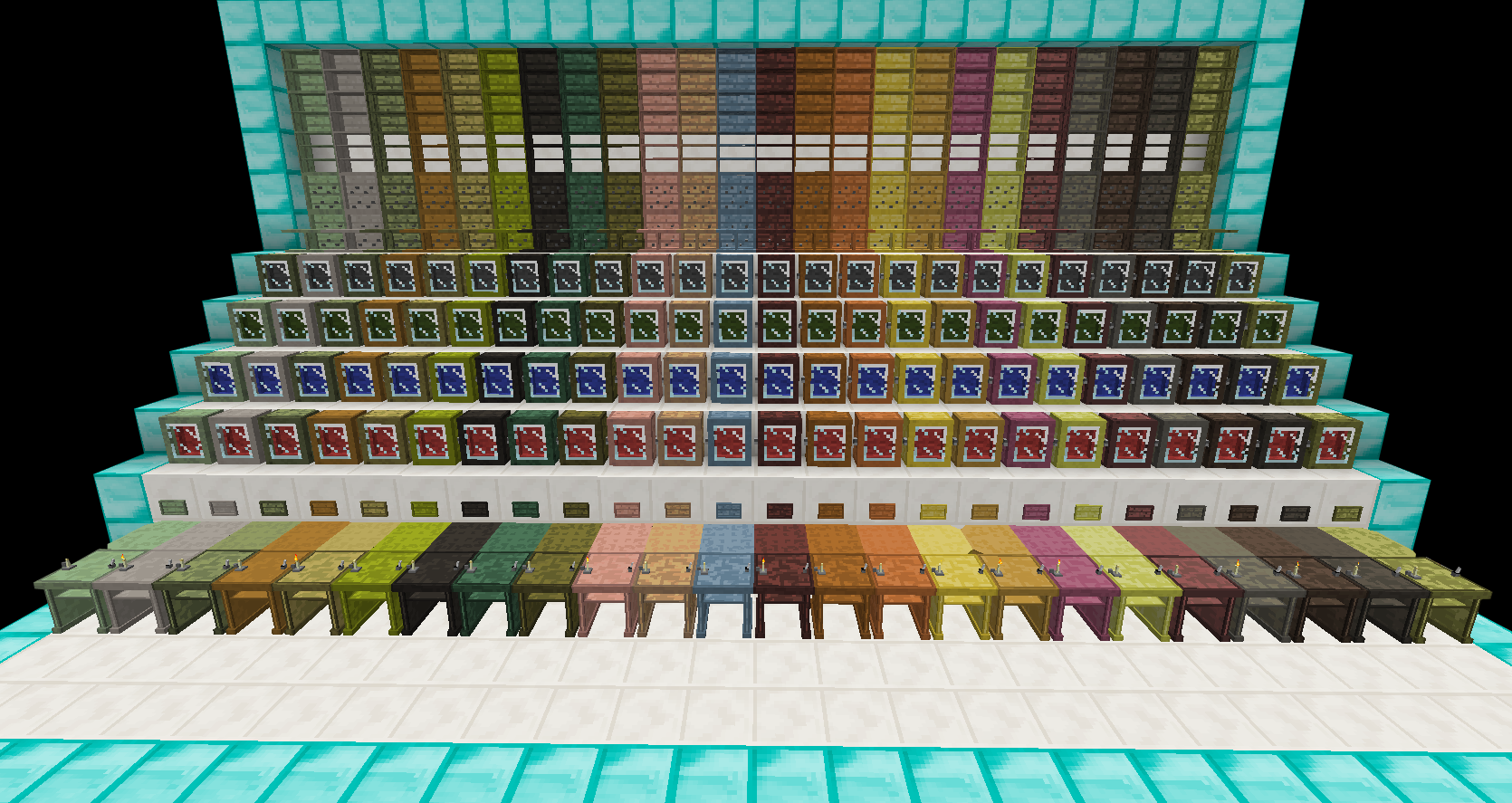 Forestry woods showcase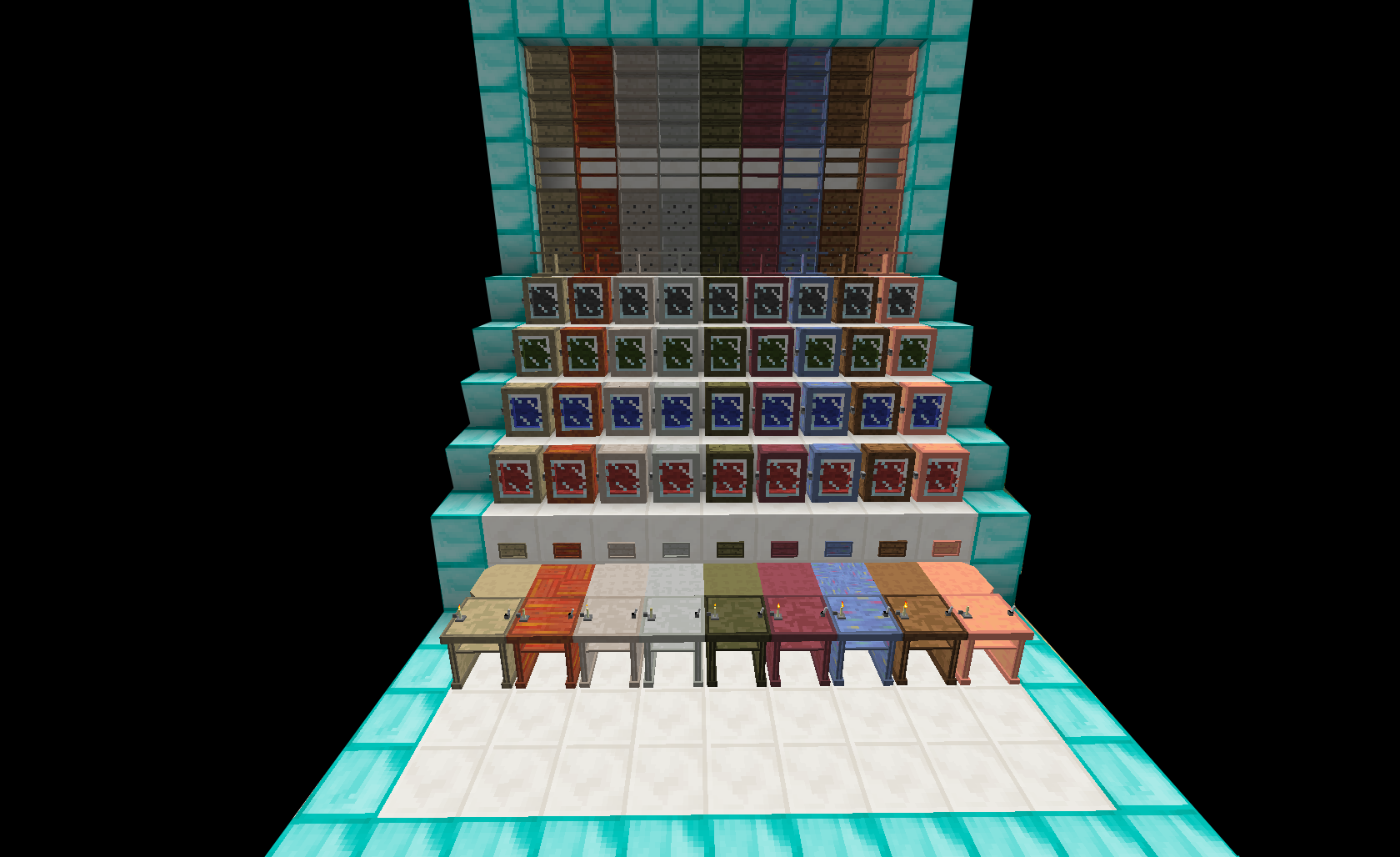 ExtrabiomesXL woods showcase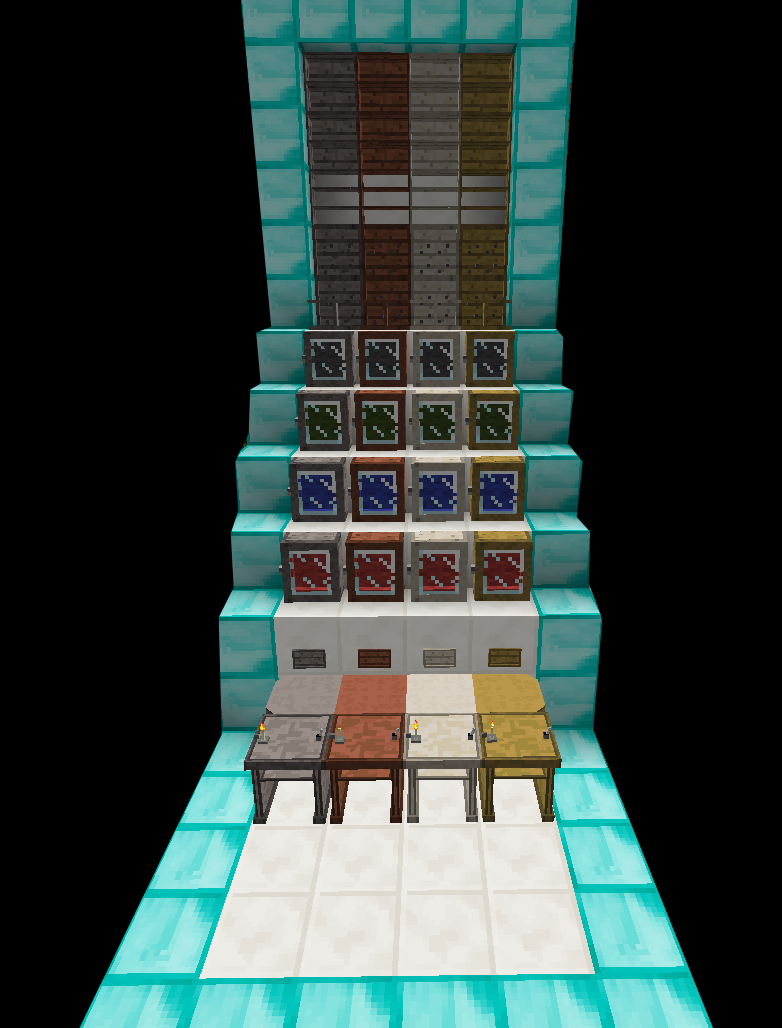 Highlands woods showcase
For Minecraft 1.11.2 and BiblioCraft v2.3.1+
Download BiblioWoods Biomes O' Plenty edition v2.0: http://adf.ly/1mkhrR
Download BiblioWoods Forestry edition v2.0: http://adf.ly/1mkhrx
Download BiblioWoods Natura edition v2.0: http://adf.ly/1mkhrf
For Minecraft 1.7.10 and BiblioCraft v1.10.3+
Download BiblioWoods TerraFirmaCraft edition v1.0:
For TerraFirmaCraft v0.79.15: http://adf.ly/1EeZpB
For TerraFirmaCraft v0.79.17: http://adf.ly/1EeZsM
For TerraFirmaCraft v0.79.18~22: http://adf.ly/1H0pz3
For TerraFirmaCraft v0.79.23:  http://adf.ly/1OB0n9

Click here to see BiblioWoods TerraFirmaCraft edition recipes. 
For Minecraft 1.7.2/1.7.10 and BiblioCraft v1.8.x, 1.9.x and 1.10.x
Download BiblioWoods Biomes O' Plenty edition v1.9: http://adf.ly/tlBMm
Download BiblioWoods Forestry edition v1.7:  http://adf.ly/tlBJU
Download BiblioWoods ExtraBiomesXL edition v1.4: http://adf.ly/tlBL1
Download BiblioWoods Natura edition v1.5: http://adf.ly/tlBHv
Download BiblioWoods Highlands edition v1.4: http://adf.ly/tlBIY

For Minecraft 1.7.2/1.7.10 and BiblioCraft v1.7.5
Download BiblioWoods Biomes O' Plenty edition v1.7:  http://adf.ly/rLGAm
Download BiblioWoods Forestry edition v1.5:  http://adf.ly/rLGCp
Download BiblioWoods Natura edition v1.3:  http://adf.ly/rLGDs
Download BiblioWoods Highlands edition v1.2:  http://adf.ly/qSon3
For Minecraft 1.6.2/1.6.4 and BiblioCraft v1.5.0-b1.5.5
Download BiblioWoods Biomes O' Plenty edition v1.3:  http://adf.ly/XgYZj
Download BiblioWoods Forestry edition v1.3:  http://adf.ly/XgYSH
Download BiblioWoods ExtraBiomesXL edition v1.1:  http://adf.ly/XgYdQ
Download BiblioWoods Natura edition v1.1: http://adf.ly/XgYgR
Download BiblioWoods Highlands edition v1.1:  http://adf.ly/XgYWI
For Minecraft 1.6.2 and BiblioCraft v1.4.1 (Forestry and BoP editions work in v1.4.0 also)
Download BiblioWoods Biomes O' Plenty edition v1.2:  http://adf.ly/UHki8
Download BiblioWoods Forestry edition v1.2: http://adf.ly/UHkn2
Download BiblioWoods ExtraBiomesXL edition v1.0: http://adf.ly/V8W17
Download BiblioWoods Natura edition v1.0: http://adf.ly/V8WM1
Download BiblioWoods Highlands edition v1.0: http://adf.ly/V8WZ2
For Minecraft 1.6.2 and BiblioCraft v1.3.4
Download BiblioWoods Biomes O' Plenty edition v1.1:  http://adf.ly/Rn1og
Download BiblioWoods Forestry edition v1.1: http://adf.ly/Rn4ZT
For Minecraft 1.5.2 and BiblioCraft v1.3.3
Download BiblioWoods Biomes O' Plenty edition v1.0: http://adf.ly/RR9rp
Download BiblioWoods Forestry edition v1.0: http://adf.ly/RR9tQ